5 Day Self Guided Walk: Apollo Bay to 12 Apostles (100km) Departs Monday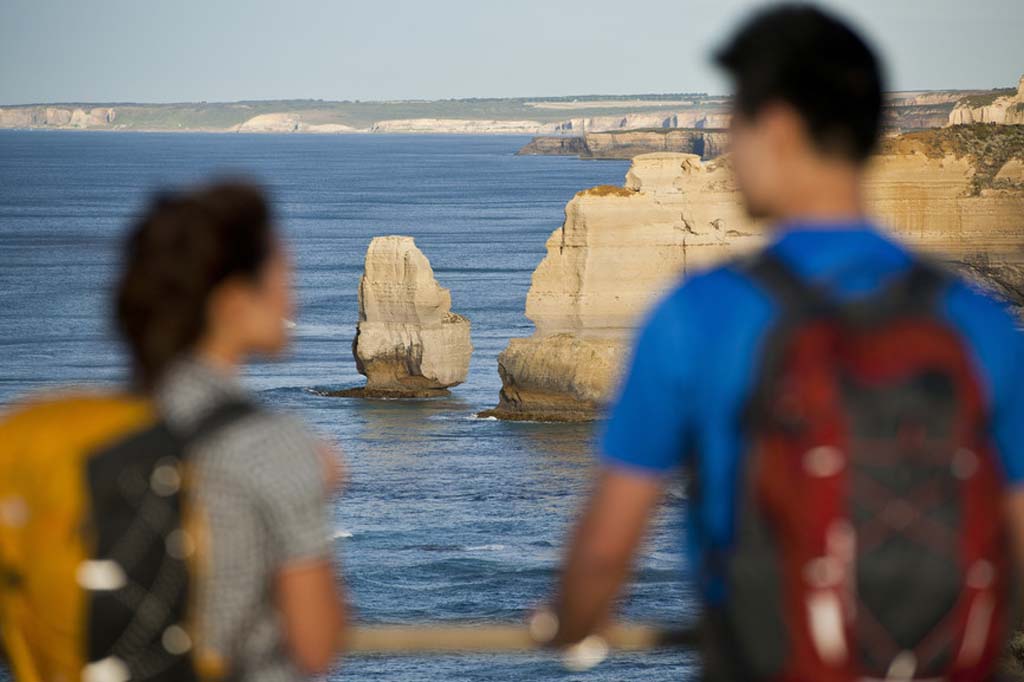 Durata: 5 Giorni (circa)
Codice prodotto: B5
Five Day Great Ocean Walk, Bus Itinerary - Apollo Bay to the 12 Apostles.
This is a Self-Guided Walk, picking you up & returning you each afternoon to Apollo Bay.


Bus transfers are provided as listed below, you book and pay for your own accommodation and food.
The bus departs from and returns to the Apollo Bay Information Centre. Pick up times are fixed as listed below.
(Please note that sometimes this bus may be fully booked or not available. Please check the dates advertised before you book your accommodation in Apollo Bay).

Lighthouse ticket included.
Please note for 1 walker: This service requires 2 people or more to run. If you are a single walker booking this service and receive a 'booking pending' email it means that you are the first walker to book this bus itinerary on your chosen

date. As soon as we have other walkers confirmed for this date we will contact you to confirm the trip is running and to check if you still wish to proceed with your booking.
Groups:
If you are part of a group of 6 or more and would like to book alternative dates, or you would like the bus to be private for a group of 6 or more, please contact us on info@greatoceanroadshuttle.com.au
Itinerary:
Recommended for fit walkers as the first day is a long walk of 26km's.
If Day 1 is too long for you please refer to the 6 Day Walk. The bus cannot wait for you if you are not at the meeting spot at the end of the day at the allocated time.
Day 1 Monday 26km Apollo Bay to Parker Hill Campground
Approx 7am - 7.30am Walk out of Apollo Bay.The start time depends on your own personal walking pace.
4pm Bus transfer from Parker Hill Campground. ETA Apollo Bay 4.40pm
Day 2 Tuesday 16.5km Parker Hill Campground to Aire River
8am Bus transfer from Apollo Bay. ETA: Parker Hill Campground 8.40am
4pm Bus transfer from Aire River Shelter, western side of the bridge. ETA: Apollo Bay 4.45pm
Day 3 Wednesday 20km* Aire River to Milanesia Gate
* If you wish to stop at 'Milanesia 3 ways' you can reduce this walk to approx 18km, as the remaining 2km is on a dirt road.

8.00am Bus transfer from Apollo Bay. ETA: Aire River 8.30am
4.00pm Bus transfer from Milanesia Gate. ETA: Apollo Bay 5pm
Day 4 Thursday 18km Milanesia Gate to The Gables
8.00am Bus transfer from Apollo Bay. ETA: Milanesia Gate 9.00am.
4.15pm Bus transfer from 'The Gables' Beach. ETA: Apollo Bay 5.30pm
Day 5 Friday 19.5km The Gables to 12 Apostles
7.30am Bus transfer from Apollo Bay. ETA: 'The Gables' 8.45am
3.00pm Bus transfer from 12 Apostles. ETA: Apollo Bay 4.30pm
Please PRINT these pages off and bring them with you to refer to whilst you are walking.
We strongly suggest you buy an Official Great Ocean Walk Map if you have not already purchased one.
Please note that this is a bus service - if you are not at the bus stop at the allocated time the bus will not wait! To be fair to other walkers we must depart at the advertised times.
You will need to pay extra fees (or taxi fares) to come back and collect you if you are not at the meeting spot.
If you arrive at the meeting spots before the allocated bus times you must wait until the advertised departure times.
We recommend that you prepare/ train for the walk (it can be difficult if you are not fit) and to study the times and km's allocated each day. Only book this bus service if you are confident that you are walking within your means and can meet the bus at the advertised pick up times each day. Our bus times are conservative however and based on a person walking approx 3-4 km per hour carrying only a small day pack. Please read our terms and conditions.

Please wear appropriate clothing, comfortable walking shoes or boots and bring a 2 - 3 litre water bottle. For other suggestions of 'what to bring' please refer to our website.